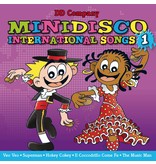 Click on the cd to view the full album.



The Goblin Dance - Songtext
(G. Verhulst, D. Verbiest, H. Bourlon, J. vanden Eede – Studio 100 Publishing, English adaptation: D. Dubbeldam, J. van der Plas)
Pay attention, everyone
'cause this is your great big chance
If you listen carefully
We can do the goblin dance
Every goblin boy will choose
the goblin girl he likes to get
Say hello and take her hand
then put a step ahead
Chorus:
Turn around and around
Stamp your feet on the ground
Wave your hands in the air
And sit down with some flair
Walk around like a goose
And dance the goblin blues
Hello, would you like to dance with me?
Dancing, I get so tired of dancing
I don't dance no more, I'd rather sleep
Hey, this looked alright to me
But we can do this better, though?
Do the goblin dance again
Do it twice, let's go
Chorus 2x:
Turn around and around
Stamp your feet on the ground
Wave your hand in the air
And sit down with some flair
Walk around like a goose
And dance the goblin blues
Hello, do you like the way I dance
Yes of course I do
Actually I am the best dancer of the whole goblin village
I like the way your dancing now
You've really got the goblin shake
Do it for the last time now
Twice without a break
Chorus 2x:
Listen to The Goblin Dance
You can find The Goblin Dance on
Minidisco International Songs CD 1
Or listen to The Goblin Dance on
Google Play